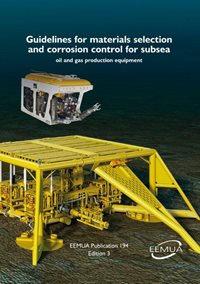 The new Third Edition of EEMUA Publication 194 'Guidelines for materials selection and corrosion control for subsea oil and gas production equipment' reflects the significant developments that have occurred in subsea materials technology and operational experience since the Second Edition was published in 2004.
EEMUA Publication 194 is aimed at engineers and others involved in the design, specification, commissioning, operation, maintenance, repair or refurbishment of underwater oil and gas production equipment and related facilities. It provides an overview of the current knowledge of the principles and practices of materials selection and corrosion control for these facilities.
Guidance on the application of such knowledge is considered necessary because, for example:
The complexity of subsea equipment is continually increasing: items such as multiphase pumps, separators and water injection facilities are becoming more commonly specified.
The amount of hydrocarbons recovered from subsea developments is set to increase in the future, hence the reliability of subsea equipment has become increasingly important for the producing companies.
Deep water developments have become more common, and the performance of materials in such environments is not well understood and documented at present.
Reservoir fluids from marginal fields may become increasingly corrosive/erosive.
Relatively little detailed guidance is available in existing industry codes, standards, etc.
The integrity of subsea equipment is paramount for protection of the environment.
The Publication was developed by a specialist Work Group of EEMUA's Materials Technology Committee (MTC), which comprised metallurgists and corrosion engineers with particular expertise in the subsea environment and was drawn from leading oil and offshore engineering companies.
Published in full colour in 155 pages, EEMUA Publication 194, Edition 3 (ISBN 0 85931 188 5) can be purchased by going online to the EEMUA Shop, emailing sales@eemua.org, or by phoning the Sales Department on +44 (0)20 7488 0801.
In order to help readers maintain their knowledge up-to-date, EEMUA has developed a 2½-day training course based on EEMUA Publication 194 but incorporating the latest experience. This EEMUA course, in association with the Society for Underwater Technology (SUT), is held annually in the UK and at various locations around the world.